OUR AMAZING BAND: DEXTER TOLSON & FRIENDS

DéJavē Extraordinaire, LLC manages jazz artists Dexter Tolson and Friends Band. If you need of a jazz band for your upcoming event, let us assist you in securing this band for a phenomenal jazz experience!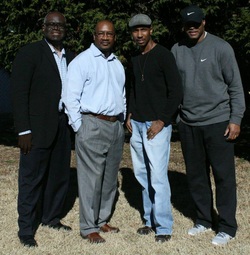 Meet The Band (left to right):

Anthony (Tony) Carter - Keyboardist
Dexter Tolson - Band Leader, Saxophonist
Bobby Henderson - Percussionist
Roland Beard - Bass Guitarist

Review the band's Power Press Kit:
http://myppk.com/mobile/index.aspx?PPK=15340


If you want additional information about the band or interested in booking them, then give us a call at (770) 823-8549 or complete the Contact Form on this website.
---